MEKATRON ROBOTIC PROJECT DEVELOPMENT
Robots are one of the most important instruments in today's industry, in achieving the goal of high quality production.
As industrial robots are separated into sub-classes, the most preferred ones in the production industry are; Cartesian Robots, Scara Robots, Delta Robots, 6 Axis (Articulated) and Collaborative Robots.
As Mekatron Makina, we select the most suitable ones among the industrial robots, which is the most effective instrument of Industry 4.0 transformation in Today's industry and provide genuine robotic project services.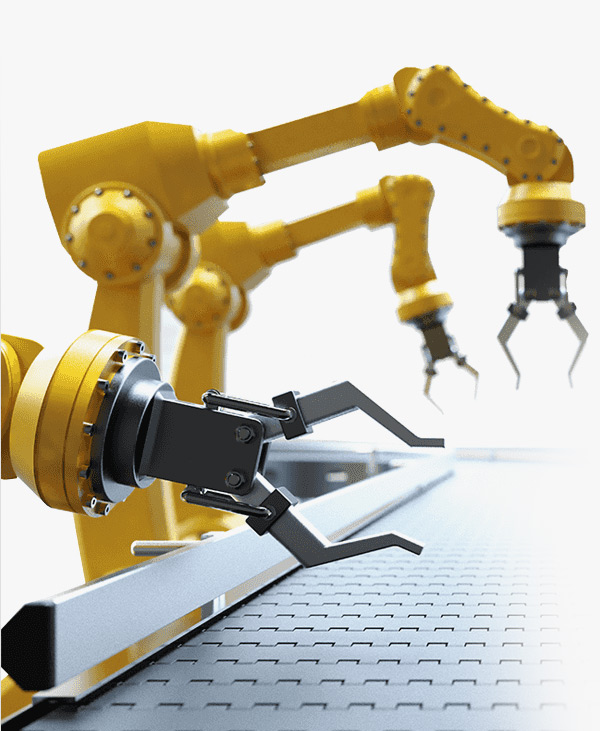 PICK & PLACE AND PACKAGING
Pick and Place is a robotic process type which is most preferred in the basic processes in which speed, security and precision are required in the manufacturing industry. In this process, based on the weight, size and positional sensitivity of the products to be transferred and handled, different robots are preferred.
---
PLATE BENDING
While the production process is carried out by the operator at conventional Sheet Bending stations, increasing production targets and time/cost ratios in the industry made it obligatory to transfer these human-made works to robots.
As the use of 6 Axis Robots in these types of operations performed in high numbers and very repetitively enables high sensitivity production planning regardless of operator performance, it also eliminates the standardisation problems caused by operator differences and increases the rate of business profitability to higher levels.
---
SEALER APPLICATIONS
Sealing applications, which is one of the most important processes in mounting technologies are transferred to robots from humans. With this application, by eliminating the "damage to human life" of the chemicals used in sealing processes, at the same time, it is possible to prevent human errors and waste as well as to ensure much faster and sensitive production at lower costs..
---
Plasma
In sealing applications, which is one of the most important processes in mounting industry, as a preparation before the sealing, the application surface was being cleaned by the operator using a chemical and therefore standardisation, material waste, application speed etc. losses are incurred in addition to the risk of damage to human health.
Plasma, one of the latest technologies provides perfect cleaning in the products before sealing thanks to its micro level abrasive characteristic from its high energy. The quality and process of this cleaning is very fast, it is possible to use sealing on a surface which plasma has been applied, without the need to separate the cleaning and sealing processes from each other.
---
PRIMER
Primer, which acts as the liner to the sealing and which is used in the sealing processes of products, especially in automotive industry and which can withstand intensive external environment conditions, is dangerous to be applied by humans and is a process that is mandatory to be applied equally to each product but is not possible in practice. For this reason, we are the first domestic company to implement this fully automatic system which the industry needs.
---
LASER WELDING
Sensitive welding operations such as Stainless, Aluminium etc. carried out primarily according to the skill of the operator involve serious risks in mass production due to limited qualified human resource. Due to the requirements of the manufacturing industry to generate more work, faster and smoother every day, welding process has evolved to be robotised in line with Industry 4.0. Welding processes of many fine materials such as 0,2-0,5 mm have been transferred to fully automatic welding stations.